Dave Rygalski
is
Lane Kim
's first real boyfriend. He comes into her life when she joins his band after she posted an ad for bands seeking drummers. They begin dating and he pretends to be a Christian guitarist to gain her mother's approval, he does not, however, gain it until late in the season as he is not Korean. He is later replaced by
Gil
in the band, after he moves to California for college. Dave is mentioned a few more times as a long distance boyfriend but the relationship between Lane and Dave ends after a fight over the marriage jug - the last mention of him. He does not appear again in the show.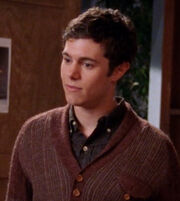 Dave is named after Helen Pai's real-life husband. Helen told Amy Sherman-Palladino stories about their dating which inspired scenes for the show.
Adam Brody left the show to star in The O.C.
Appearances
Edit
3.03 • 3.04 • 3.07 • 3.09 • 3.12 • 3.14 • 3.15 • 3.19 • 3.20